ABOUT RAY
Full Name : Raymond Arthur Quinn
Birthdate : 25th August 1988
Birth Place : Knowsley,Liverpool
Family : Mum Val,Dad Ray Snr,Elder Brothers Darren and Rob,Aunt and Uncle Sue and Ste and Nan Marjorie
Height : 5ft 9inches
Shoe Size : 8.5
Star Sign : Virgo
Eye Colour : Greeny Brown
Favourite Colour : Blue
Favourite Animal : White Tigers
Fears : Heights Creepy Crawlies,Sharks
RAY'S DANCING QUALIFICATIONS
Ray has many dance qualifications,they are as follows :
Disco-Junior British Champion
Ballroom-British and Europeon Junior Champion
Latin-Junior World and British Champion
Modern-Junior British Champion(Janet Cram Awards 2000)
Ballet-Advanced Level
Tap-Advanced Level
Modern-Advanced Level
Jazz-Advanced Level
Ray can also do various acrobatic skills,including no handed summersault.
RAY'S ACHIEVEMENTS
March 2014-Dancing on Ice Champion of Champion's,with skating partner Maria Filippov
March 2009-Dancing on Ice Champion,with partner Maria Filippov
May 2007-Scouseology Award-Personality Of The Year
2005-Search For A Star-Winner
2002-British Soap Award-Best Dramatic Performance
2002-British Soap Award-Best Storyline
2002-Inside Soap Award-Best Young Actor
November 2002-Royal TV Society Awards -Best Performance In A Network Soap
Janet Cram Awards 2002-Winner of the Boys Cup(Senior Section)
Janet Cram Awards 1999-Winner of the Boys Cup(Junior Section)
Career
Ray first shot to fame whilst appearing in popular CH4 Soap Brookside as the long sufffering Anthony Murray,between 1999-2003.Whilst there he won various Awards,including Best Storyline and Best Dramatic performance at the British Soap Awards(2002),Best Young Actor in the Inside Soap Awards(2002),and Best Performance in a Network Soap at the Royal Television Society Awards(2002).
Ray was also a contestant on popular reality series the X Factor(2006),on which he came 2nd.In 2009 Ray became Dancing On Ice Champion,skating alongside Maria Fillipov,to win the coveted title.In 2014, Ray acheived his 2nd coveted Dancing on Ice title,when he became Dancing on Ice Champion of Champions,once again alongside skating partner Maria Fillipov.

Other TV Credits
Merseybeat(BBC),Doctors(BBC),The Singing Cactus(part of the BBC Afternoon Play Series),Songs Of Praise(BBC),Britain Sings Christmas(ITV),Hider In The House(BBC),Watchdog(BBC),Alan Titchmarsh Show(ITV),This Morning(ITV),Loose Women(ITV),The Wright Stuff(Ch5),BBC Breakfast,Paul O Grady(ITV),The 5 O Clock Show(Ch4),Baby Ballroom(ITV),Everybody Dance Now(ITV),Ready Steady Cook(BBC),Grease-The School Musical(Sky),Sing If You Can(ITV),Little Crackers(Sky),Pointless Celebrities(BBC),Comic Relief 2013(BBC),All Star Mr and Mrs(ITV),DayBreak(ITV),Lorraine(ITV),Dancing on Ice-All Stars Series(ITV).
Theatre
Dirty Dancing(2010-2011)as Billy Kostecki,Grease(2008/2009)playing both Doody and lead Danny Zuko.Ray has also starred in 3 Qdos Pantomime productions(Sleeping Beauty-2009/10), (Jack and the Beanstalk-2010/11) and (Cinderella-2011/12),also Aladdin at Lighthouse,Poole(2012/2013),Peter Pan at the Liverpool Empire Theatre(2013/14).Other theatre credits include :-Peter Pan(Neptune Theatre,Liverpool),Me and My Girl(Empire Theatre,Liverpool),Buster(Playhouse Theatre,Liverpool).
Tours
Ray embarked on his own successful theatre tour in Autumn 2007.Ray has also appeared in the X Factor Tour(2007),Ray also took part in 2 tours for Dancing On Ice(2009/2010).Ray also took the lead as Danny Zuko in the U.K tour of Grease,whilst the tour was visiting Liverpool(November 2011).Legally Blonde U.K Tour(January-July 2012)as Warner Huntington lll.The Rise and Fall of Little Voice U.K Tour(August 2012-June 2013) as Billy. Celebrities On Ice(January 2013).Dancing On Ice-The Final Tour(2014).
Music
In March 2007,Ray released his debut album'Doing It My Way'.The album shot to No1 in the charts,quickly reaching Platinum selling status.Ray is currently writing and producing new material with writing partner Wayne Anthony Cole.
Film/Radio
Bulletproof(Film-2006),Lost Boys(Radio Play-2004),Millions(Radio Play-2004)The Believers(Radio Play-2010)
Ray also has done many gigs around the country,focusing on his trademark 1950's swing classics.Ray is also an accomplished dancer,winning many awards including :-
Disco-Junior British Champion
Ballroom-British and Europeon Junior Champion
Latin-Junior World and British Champion
Modern-Junior British Champion(Janet Cram Awards 2000) 

Personal Life
On Christmas Day 2010,Ray got engaged to West End star Emma Stephens.They were married in a beach ceremony in Barbados on 31st March 2012.On the same day the couple announced they were expecting there first child.Their first child,a boy named Harry Frank was born on 2nd August 2012.Ray and Emma also own a Jack Russell called Bruno.Saddely Ray and Emma announced their separation in February 2015.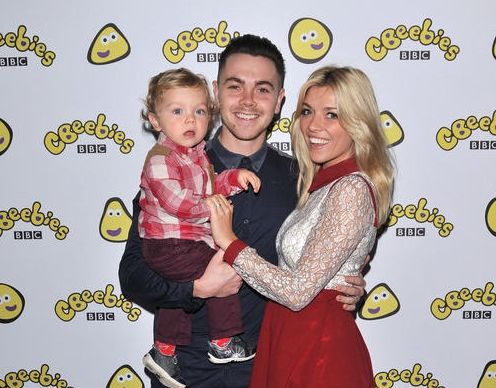 Raymond Arthur - (The Early Years)