RAY IS SKATING BACK INTO GREASE
It has been announced today that Ray will be taking over the role of Danny Zuko in Grease,at the Piccadilly Theatre from 11th May -  28th November 2009.
Ray says: "'I'm so thrilled to be playing 'Danny' in the West End . Grease is such an all time favourite and to be in the role made so famous by John Travolta is amazing- I can't believe my luck, it's a dream come true!"
Producer David Ian is equally pleased with his new Danny Zuko
Producer David Ian says: "I am absolutely delighted to have a performer of Ray's stature in Grease. He has proven what an incredible talent he is on Dancing on Ice and I know he will truly thrill audiences as Danny Zuko".
Ray will star in the iconic role of 'Danny' and his sweetheart ' Sandy ' will be played by real life sweetheart Emma Stephens (Grease, Starlight Express, Saturday Night Fever). The new class of Rydell High enrolling from 11 May also includes Stuart Ramsay ('Kenickie'), Natalie Langston ('Rizzo'), Michael Melmoe ('Roger'), Laura Wilson ('Jan'), Benjamin Ibbott ('Doody'), Faye Brookes ('Frenchy'), Bennett Andrews ('Sonny'), Robyn Mellor (Marty'), Jamie Tyler ('Eugene'), Lizzi Franklin ('Patty'), Jason Capewell ('Vince/Teen Angel), Marie Daly '(Miss Lynch') and Kristina Macmillan ('Cha Cha'), with other parts played by the ensemble.
Ray and Emma-Promotional Pictures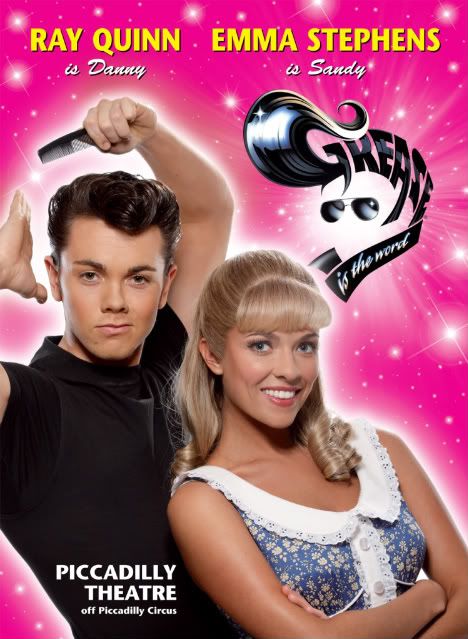 Ray and Emma-At The Stage Door On Their Opening Night(11/05/09)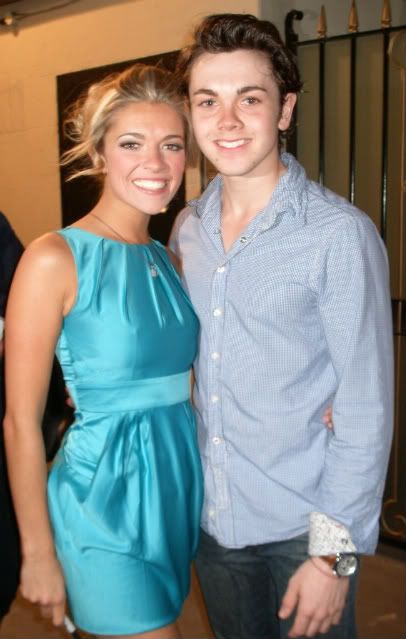 Ray's  Biography In The Grease Programme
Ray Quinn
Danny
Theatre includes: Buster, (The Playhouse Theatre), Me and My Girl, (The Empire Theatre) and Peter Pan, (The Neptune Theatre); and Doody in Grease (Piccadilly).
Television includes: Dancing on Ice - winner 2009 (ITV); Anthony Murray, Brookside, (Channel 4), awarded Best Dramatic Performance and Best Storyline at the Soap Awards 2002, Best Performance in a Network Soap from the Royal TV Society 2002, Best Young Actor from Inside Soap Awards 2002, Mersey Beat and Doctors (BBC) and Baby Ballroom as a judge (ITV).
Film includes: Bulletproof and The Singing Cactus.
Other credits: X Factor 2006 (ITV), X Factor UK Arena Tour (2007), Ray Quinn UK Theatre Tour (2007) and Dancing on Ice arena tour (2009).
Recordings: No.1 platinum selling album, Doing It My Way.
 Emma Stephens Page
http://www.rayquinnworld.co.uk/emmastephens.htm
Totally Theatre-Ray Quinn and Emma Stephens Interview
GMTV Performance(You're The One That I Want)
Grease Rehearsals
Sky 1 Talks to Ray about his role in Grease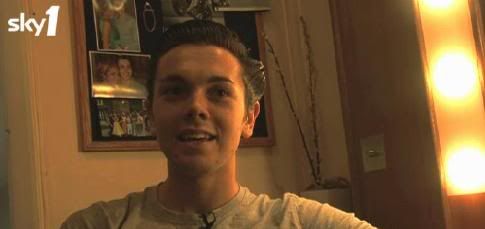 http://sky1.sky.com/grease-ray
Official London Theatre Cast Interview
Ray and Emma-Talk Love-On and Off Stage
 Meet the new Danny and Sandy
Ray Talking About Playing Danny Zuko
 Celebrity Radio Interview With Ray Quinn
Ray and Kristina Macmillan-Born To Hand Jive
http://news.bbc.co.uk/1/hi/entertainment/arts_and_culture/8256045.stm
NEWSPAPER ARTICLES AND PRESS RELEASES
Ray Extends His Grease Contract
http://www.whatsonstage.com/news/theatre/london/E8831248771720/Musicals+Extend:+Quinn+in+Grease,+Blood+Brothers.html
http://www.playbill.com/news/article/131512-West_End_Grease_Extends_to_Fall_2010%20Grease_High_School_Reality_Show_Planned
http://broadwayworld.com/article/GREASE_Celebrates_Second_Birthday_Quinn_Extends_Run_20090727
RAY TALKS GREASE,GREASEPAINT AND TWITTER
http://blog.lastminute.com/2009/06/18/ray-quinn-talks-grease-greasepaint-and-twitter/
RAY HITS BACK AT 'GREASE' JIBES
http://www.deanpiper.com/index.php/2009/04/06/ray-quinn-talks-about-jason-gardiners-cruel-grease-jibes/
GREASE-NEW CAST ANNOUNCED
http://broadwayworld.com/article/Quinn_Stephens_Set_to_Lead_New_GREASE_Cast_Booking_Extended_Thru_Jan_2010_20090402
 http://www.officiallondontheatre.co.uk/news/latest/view/item105329/Stephens-joins-Quinn-as-Grease-extends/#
RAY'S  STARRING ROLE
http://blogs.mirror.co.uk/we-love-telly/2009/03/tv-news-ray-quinn-to-star-as-d.html
http://www.heatworld.com/Article/9684/Ray+gets+a+promotion+at+work
http://www.londontheatre.co.uk/londontheatre/news/ma09/grease333117.htm
http://www.officiallondontheatre.co.uk/news/latest/view/item104864/Quinn-spends-Summer-Nights-in-Grease/#
http://broadwayworld.com/article/TV_Actor_Ray_Quinn_Cast_As_Danny_In_GREASE_In_UK_511103_20090318
WHAT'S ON STAGE ANNOUNCE RAY'S RETURN TO GREASE
This week's Dancing on Ice victor Ray Quinn , who made his West End debut last year playing Doody in Grease will return to the musical revival at the Piccadilly Theatre to take over from Danny Bayne in the starring role of Danny Zuko, for a limited season from 11 May to 3 October 2009. Since going head-to-head with Leona Lewis in the 2006 series of The X-Factor, Quinn has released his Platinum-selling album Doing It My Way, launched a sell-out concert tour and appeared on TV soap Brookside. This past weekend, he triumphed in another reality TV final, in Dancing on Ice. He skates into Grease after a live Dancing on Ice tour.
SHOP WITH THE STARS(16/05/09)
click on image for more information
Future Dreams-One More Time Charity Gala(04/10/09)

On 4th October 2009 Ray took part in a charity gala along with the Grease cast to raise funds and awareness of Cancer Charity Future Dreams.This event was held at the Piccadilly Theatre in the London's Westend.

http://www.officiallondontheatre.co.uk/london_shows/show/item106176/Future-Dreams:-One-More-Time/

For further information on the cause and to donate,please visit :-

http://www.futuredreams.org.uk/

http://breakthrough.org.uk/be_inspired/future_dreams_one.html

 
(L-R Ray with fellow Grease cast members Damien Poole,Michael Melmoe,Bennett Andrews and Craig Daniel Adams)